What's the most iconic symbol of California that you can think of that's not the beach or Hollywood? Outdoor aficionados and environmentalists don't even think of Southern California—it's those magnificent redwoods. That's
Mill Valley
, a small town in the shadow of those ancient redwoods in Muir Woods National Monument.
Among the suburbs of San Francisco, Mill Valley stands alone as a haven for luxurious homes and living, where residents share a passion for the outdoors. Nestled at the base of Mount Tamalpais (Mount Tam to the locals), the vibrant community of 15,000 residents offers something for every home buyer, from a condo uptown to an honest-to-goodness estate.
The only real questions if you're thinking of a move to Mill Valley—and why wouldn't you—are these: is now a good time to buy in Mill Valley or Marin County, and which neighborhood suits you best? The Marin County real estate team of Michelle and Ronda have the answers to all your questions about buying homes for sale in Mill Valley.
If you're not familiar with the Mill Valley area, it's a laid-back community that knits the threads of old California—land grants, the Gold Rush, and a railroad designed to bring tourists to the area—into a vibrant village full of art galleries, wonderful restaurants, boutiques, and a casual outdoor lifestyle. It's a town where the Range Rovers sport kayak racks instead of tinted windows, but don't let the friendly and low-key vibe fool you—your neighbors probably have second homes in Montana and vacation worldwide.
Where does all this affluence come from? Mill Valley and Marin County are a short hop from San Francisco (35-minute commute) and Silicon Valley (an hour and change), and the proximity to both the sophistication of the Bay Area and the outdoor lifestyle attracts professionals, retirees, and families.
Just the facts
Mill Valley is part of affluent Marin County and covers about five square miles just north of San Francisco. The location creates a Mediterranean-like climate, with mild winters and summers that rarely top 90F—residents can get outdoors year-round.
The median household income here is more than double the median in California—over $163,000—and housing prices reflect that affluence. The median home value is almost $1.5 million, although some estates sell in the tens of millions.
Schools
Mill Valley residents don't have to worry about finding a home in a "good" school district; there are only five elementary schools, one middle, and one high school. Marin Country Day School is also just a few miles to the west.
Buying a home in Mill Valley
One of the most appealing aspects of Mill Valley is that although it is a fairly wealthy suburb of San Francisco, there's a range of architectural styles and types of homes. The proximity to all that natural parkland, including Muir Woods National Monument, lends a distinctive hunting lodge vibe to real estate offerings, along with condos close to the city center and elegant estates tucked away along wooded, winding roads. Seriously, Mill Valley really does have something for every home buyer.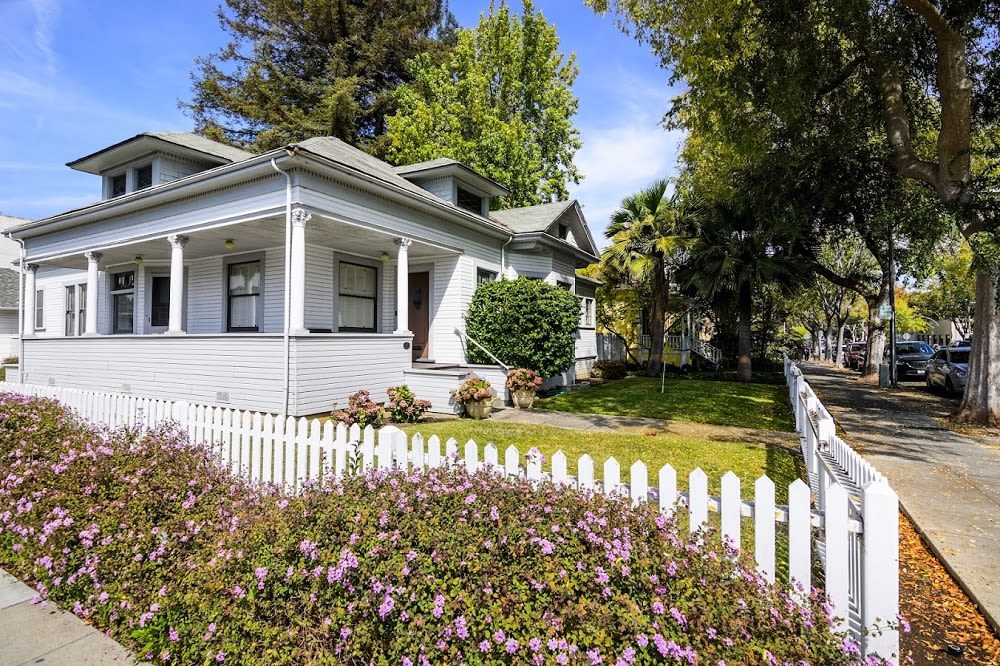 Shifting market dynamics
The real estate market in Marin County and Mill Valley remains strong. Indeed, rising interest rates have likely been the reason that new contracts declined in April. It's also true that price reductions are rising—more homes are on the market longer, and sellers are more willing to drop their asking price rather than remain an active listing.
For Mill Valley, these price reductions are not a concern. Homes in the more mid-priced range are more susceptible to a slowdown because of rising interest rates than the luxury market—buyers who are looking in that million-dollar-plus range are typically not worried about being priced out of the market by increased mortgage payments.
This is not to say that buyers in the higher price ranges are not affected by shifts in the economy, far from it. They focus more on the overall financial markets instead of the simple factor of interest rates. It is difficult to read the tea leaves and predict how recent volatility in the global markets will impact sales in Mill Valley as real estate is more of a lagging indicator.
Going into the summer, the market fluctuations are real. One home may have sold for a couple of hundred thousand over the asking price six weeks ago, while a similar property down the street listed a few weeks later already had a price reduction. What you always hear in real estate is location, location, location, but Michelle Klurstein and Ronda Priestner, Compass Real Estate Agents in Marin County and Mill Valley, would offer a second opinion on that adage—timing is everything.
How current trends affect buyers
Buyers are in a slightly better overall position now that overall trends point towards a slowdown, but the Mill Valley market and surrounding areas remain hot—they're just not scorching hot anymore. If you're into whitewater rafting, the rapids have gone from a five to maybe an easy four in difficulty—you have a much better chance of coming out alive, but it still won't be easy.
People who are interested in buying in Mill Valley are finding that a slower market simply means that they may not have to offer hundreds of thousands more before a home even hits the market. In certain markets, they can be a bit pickier about things like repairs or seller concessions, but sellers in the upper reaches of the market may not be inclined to give much. In general, there's likely to be a return to negotiating contracts as they did pre-2020.
Current trends: impact on sellers
Even in super-high-priced neighborhoods, sellers may need to put more effort into their listings than they have been in the last couple of years. This remains a far cry from the staging and sprucing up that's common in moderately-priced areas, but buyers can demand a perfectly pristine home to accompany those big price tags. One area where sellers may need to be a bit more realistic, even in the eight-figure listings, is in the initial asking price. If a seller insists on a low price, hoping that it instigates a bidding war, they may well wind up in a situation where they sell for much less than they could have.

Figuring out the sweet spots for both buyers and sellers takes a Real Estate Agent who's well-seasoned in dealing with luxury home transactions, and that's where Michelle and Ronda excel—they know how to create the optimal experience for both buyers and sellers in Mill Valley.
Mill Valley Neighborhoods
The town may be small, but there are 38 neighborhoods where buyers might find a place to call home.
Lytton Square
Residents who want an uptown feel often opt for downtown living around Lytton Square, which usually means a condo or townhouse. This area is popular because residents can walk to restaurants and shopping that dot the area.
Middle Ridge and the Canyons
A bit further up Mount Tam lie these three neighborhoods—Blithedale, Middle Ridge, and Cascade Canyon. This area was originally built as summer cottages in the early 1900s, so the area is a mix of updated Victorian and bungalow style homes, and newer construction, on wooded and secluded lots. Homes with higher elevations may have gorgeous views of the San Francisco skyline or Mount Tam. The redwoods and elevation also create a slightly cooler climate for residents.
Strawberry Peninsula
This area is one of the most diverse in Mill Valley. First-time buyers can find a home here, and so can wealthy buyers who want a mansion or cottage on Richardson Bay. Architecture buffs may find a
1950's Eichler-built home
in Strawberry. The weather here can be a little off from the rest of Mill Valley as the water makes it foggier and warmer.
The Mountain
Hikers gravitate towards the neighborhoods of the Mountain, a loose community of close-knit streets that feels like living in the country, but is only a few minutes from Lytton Square. Homes here are not cookie-cutter; a renovated summer cottage and multi-million dollar luxury home are perfectly comfortable being neighbors.
Why do hikers want to live here? The famous (or infamous, depending on your fitness level)
Dipsea Stairs
Trail runs through the neighborhood, all the way—680 steps—down to town.
A neighborhood for literature buffs
Enchanted Knolls and Shelter Ridge streets are named for 19th-century English poets, although the homes were built in the 1950s and 60s, and the neighborhood has some 1970s vintage condos.
Alto and Scott Valley
These are two of the priciest neighborhoods in Mill Valley, where homes can easily top $4 million. Homes here are large, with a magic cocktail of large lots and a rural feel, and—it's easy to get to the 101 highway from here.
Finding your Mill Valley dream home
If you're interested in exploring
Mill Valley homes for sale
, Michelle Klurstein and Ronda Priestner have the expertise to guide you through real estate options, from a small getaway condo near Muir Woods to a mountaintop aerie estate with views overlooking Mount Tam and the bay. Call them today for the latest market trends and new listings in Marin County and the surrounding area.